Veere Grenney has been involved in the International interior design industry for over 30 years. He trained under Mary Fox Linton, was later a director at Sibyl Colefax and John Fowler before launching his own firm 17 years ago. He has been included in the British House and Gardens directory of 100 Leading Interior Designers for the past seven years, honored as one of Architectural Digests Top 100 Designers, and named one of Veranda Magazines Magic Makers in 2013.
It was his lovely collection of waterwashed prints for Schumacher that caught my eye while exploring fabrics for my own master bedroom refresh.
source

I love a soothing restful pallette in the bedroom. Watery blue, sandy brown, and weathered white make for a calming retreat. Fernpark is one of my favorites. Here it is used in Veere Grenney's own London apartment on the bed hangings.
Another favorite Woodperry
The Aqua is used on these pillows from Ivy and Vine on One Kings Lane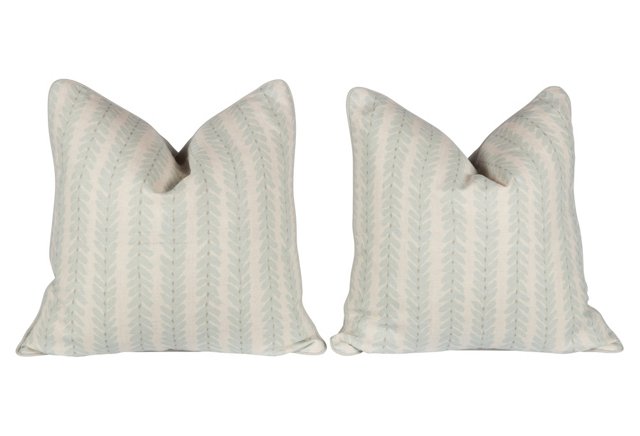 source
Mark Sikes used Townline Road in his much admired master suite in his own home.
Soundness playful and modern in aqua
In pink in Veere Grenny's own home
Love the funky temple chair from the Veere Grenney collection covered in Burley Lilac
Sooo meanwhile back at the ranch…if you follow me on instagram you saw me post these lovely fabrics that I am considering for my (desperately needed) master bedroom refresh.
Fabrics clockwise, Soleo, Jane Churchill, Woodperry Veere Grenney for Schumacher, Antique Strie Velvet, Schumacher, Windsor Smith Riad for Kravet, Peter Dunham Rajmata
If you would like to see more of Veere Grenney's lovely fabrics, furniture, or his portfolio go here
I have been having some image source issues. I tried to post Part 2 of my interview with Kelly Lack and the image links disappeared. I apologize. I will do that post in the next couple of weeks. This Friday I am going to have another Friday Flea so be sure and stop by!
Have a great week!!