I am not cooking this Father's Day. My son and daughter in law who are fabulous cooks have invited us to their house. If I were cooking I would probably cook something simple so we could enjoy the beautiful weather. How will you be celebrating?
Need any ideas for a Simple  Father's  Day  Menu? I have a quick to prepare menu that Dad will love.
Start off with the simplest of appetizers fresh figs and bleu cheese
(wonderful this time of year)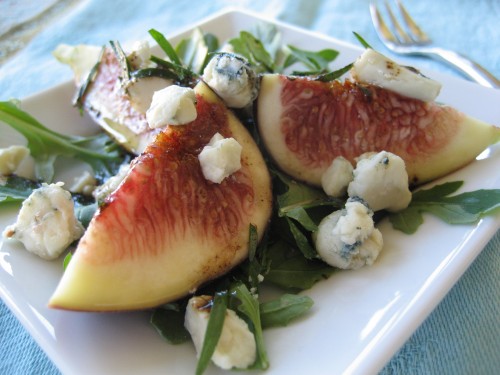 Add Cafe Sucre's Salad (one of my favorites) the secret is the dressing!
This time of year I would substitute fresh cherries
Grill some fresh asparagus. It is simple and delicious  (what is better than asparagus on the grill?)
http://www.marthastewart.com/892683/roasted-asparagus-lemony-breadcrumbs?crlt.pid=camp.VSlRzVdLeRni
Finish off with a big ole piece of red meat in honor of Dad.  What dad doesn't love a big juicy steak?  Keep him happy with this recipe from the New York Times
Santa Maria Tri Tip via the New York Times
I marinate mine in lots of garlic, salt, pepper, beer, and a touch of liquid smoke but the New York Times recipe is a keeper.
                                                    For Dessert Sorbet & Fresh Berries by the fire
via southern living
We love dining by the fire.  It always cools off in the evening here.
Hopefully, this little guy will stay in the pool and not shake all over everyone! I am not going to bet on that one.  He is so irresistible though, most of the time.  We have never had a dog that loves the water more.