As a follow up post to Pat Welsh's rose pro program I thought I would do a post about the roses that I have had the most success with in my own garden. I am not a fan of modern roses per say although I do have one or two in my garden. I prefer the form and bloom style of the old garden roses, David Austin's, and Romanticas to their modern counter parts .Please note that my garden is located along the central coast of California. A rose that performs well for me will not necessarily provide the same results for someone on the East Coast or the South. The rose forum on gardenweb.com is a great resource for anyone interested in finding out which roses thrive in their particular area. I have rarely planted a rose without consulting my fellow growers on the rose forum. One of the resources that I have found extremely helpful is Clair Martin's book English Roses for the California Garden. Although since published David Austin has developed many new and more successful varieties it is a great starting point for anyone's research. Pacific Horticulture has a good article "David Austin's on the West Coast" here
http://www.pacifichorticulture.org/articles/david-austins-english-roses-for-the-west-coast/
. Locally we have the San Jose Heritage Rose Garden
http://friendssjrosegarden.org/
which was recently named the best rose garden in America. This is a fabulous opportunity to view roses that are thriving locally. Let's take a look
In my own garden far and away my favorite and best performer is Golden Celebration. In my garden she tends to have a little more faded appearance as summer progresses and the sun intensifies. She is nearly disease resistant and blooms profusely well into December.
Golden Celebration in my garden
A close second goes to Teasing Georgia. This rose can be contained somewhat by more aggressive pruning or trained as a climber. She is very hardy and sends out massive shoots filled with blooms.
Teasing Georgia in my garden


I adore the climber Alchemist. I grew this rose with great success for many years but last year mine fell to "gopheritis" I plan to replant it. It is a once bloomer, thorny and hard to train but the blooms are well worth the effort.
Here is a picture of it in my garden before the gophers got the best of it. If you plant your roses in gopher baskets this is much less likely to happen.

Another personal favorite of mine is the shrub rose Buff Beauty. Unlike many of the old garden roses it is a repeat bloomer and is filled with blooms all summer long.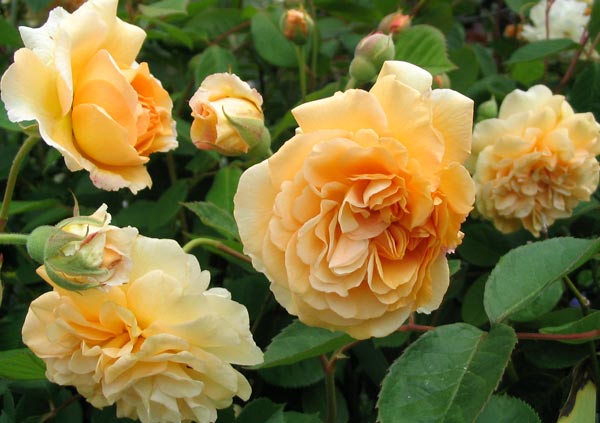 Buff Beauty in my garden

Graham Thomas was probably the very first Austin Rose that I planted and thrived for many years in my garden. It does grow into a monster and the last couple of years has become quite leggy. You can see him in the background of this picture from my garden.

I have tried many other Austins in the yellow family that I have not had limited success with. Charlotte and Pilgrim did not perform well for me. Symphony (if you can ever get your hands on it) was quite successful and very compact (unlike most of the Austins). It is a lemony yellow which is not my personal favorite. I gravitate to the yolky to amber yellows. Jude the Obscure and Crown Princess Margarita are still young in my garden so it is too early to report on them.
David Austin sells bare root roses (still available) on his website here http://www.davidaustinroses.com/american/Advanced.asp?PageId=2062. We have a wonderful local resource Roses of Yesteryear and Today http://www.rosesofyesterday.com/bareroot.html. I cannot speak highly enough of their roses. Many of the roses still thriving in my garden came from them. If you are local you can place your order and go pick them up. If you prefer to see your roses in bloom Regan Nursery in Fremont http://www.regannursery.com/index.cfm is another great spot.
I will list some of my other favorites in future posts, but I would love to hear about your roses. I loved hearing some of your rose programs. Please tell us your favorites and your "dogs" as well!
Happy Gardening!