Those of you that are regular readers of my blog know that my son and daughter in law have taken on a new venture. They are opening up a craft beer and wine bar in Oldtown Salinas. Oldtown Salinas has some beautiful old buildings and there is a concerted effort afoot to revitalize and renew Oldtown Salinas and restore it to it's former prominence as a center of community activity. Our son Colin was raised in Salinas, came back after college with his wife (an east bay native), and are excited about becoming a part of that effort. Colin and Lauren are craft beer afficionados and have long shared a family love of great wine.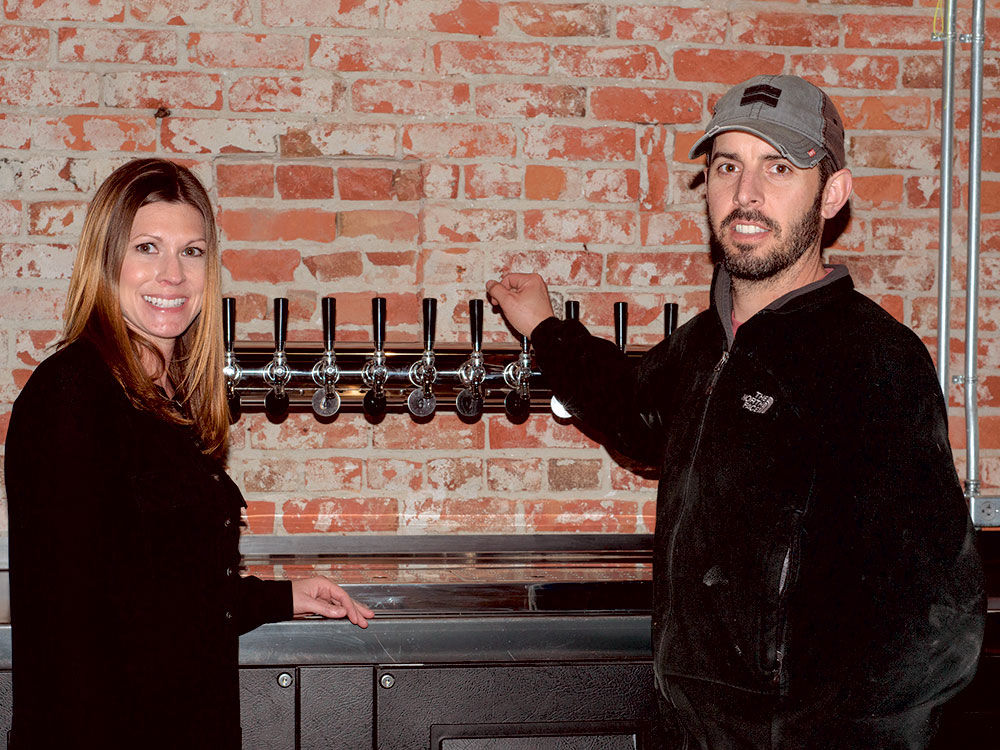 source
They are located right across the street from the wonderful restaurant Patria. The building once housed a Farmer's Mercantile in the 1800's hence the name. Lauren contacted The Monterey County Historical Society for information about the building and found that it once housed a clock tower. They had three of the original faces and graciously loaned one of them to be displayed at Farmer's Union. Colin made a frame out of the aged redwood (tutorial here) and encased it in glass. The iron balconette was salvaged from the warehouse yard (read about that here), and once graced one of our rentals. We flipped it and turned it into a console that ironically perfectly fit the space.
Colin made the bar tables out of plumbing pipe and reclaimed wood flooring (that was in the warehouse). The old doors were purchased for a project many years ago and a few were left over.
We wanted to keep the expenses low so I kept racking my brain for ideas for inexpensive art and copied this idea from my blogging friend Karen. We found the frames at Michaels and Lauren did all the work and made the art for practically nothing!!
Here is a sneak peek at one of the banquettes. Colin made the tables from the same reclaimed flooring as the bar tables with a sawbuck base painted with Amy Howard One Step Paint and Wax. Ace Upholstery did the backs and Yvonne from Soft Accents crafted the french cusions. I can't believe how comfortable they are! Colin made the boxes from reclaimed fence boards an idea "stolen" from my friend Roxanne whose kitchen you all loved here. Lauren filled the boxes with succulents. On the wall is an old wine gathering basket surrounded by two mirrors from Wayfair here.
In the back of the bar near the clock is an area that remains open (future expansion ideas). We found these beams in the trash heap. They were original to the space so we repurposed them into shelves. Lauren ordered the letters from Etsy and Colin made the sign out of old fence boards.
At the entrance we hung this light made from barrel staves that Colin made for our fixer upper that was featured in Better Homes and Gardens Kitchen and Bath Makeovers here and here. We decided to beef it up and add rope since it would be gracing a much larger space.
Here is a peek at the bar before the TV's went up yesterday. The counter is constructed of the concrete treated wood and the top is crafted of steel by Ty Brooks of Sunset Custom.
And last but not least drumroll please…
There is a big huge blank wall in the hall that leads to the restrooms. We wanted something colorful to give the space some definition. We were so fortunate to come across a wonderful series of paintings by a budding young local artist.
Here he is posing next to the 1st in the series.
And admiring the completed works…
Do you think it helps that his grandmother is artist Pat Huber? I have featured her work many times on my blog here, and here., and you can check out her website here. William is currently at work on another series . He has had many requests for gallery appearances but at the present time he chooses to work in his studio. We will keep you apprised of when he might make an appearance at a gallery near you.
Thank you William we can't wait for the construction to be over so we can hang them.
P.S Farmers Union hopes to be open by the end of the month…stay tuned…