If you follow me on Instagram you know that we recently got away for a long weekend. First of all thank you to my wonderful daughter and son in law for the lovely Christmas gift. Not only did they give us the weekend, they came down and babysat with my dad and the dog and cats. My sister lived in Napa Valley for about six years so we used to go all the time. Once she moved back East and we bought our place in Paso we rarely go anymore.
We began our trip with a stop at one of our old favorites Bistro Don Giovanni in Napa. The food is fabulous and the atmosphere charming. They never disappoint.
via trip advisor
We next went to check out the Rams Gate Winery designed by the wonderful Howard Backen with interiors by the esteemed Orlando Diaz Ozcuy. As with all of Howard Backen's projects Rams Gate is an extension of the land on which it resides. He used the barns of the Carneros region as inspiration for the design. The views are incredible and the overall effect organic perfection.If you would like to learn more about Rams Gate go
here
. If you are like me and can't get enough of Howard Backen's work you can read my post
here
, and buy his book Of the Land
here
. I guarantee it will be one of your favorites. I am constantly referring to it. I am also on a mission to see as many of his projects as I can.
source

via bgarch.com


source


source


source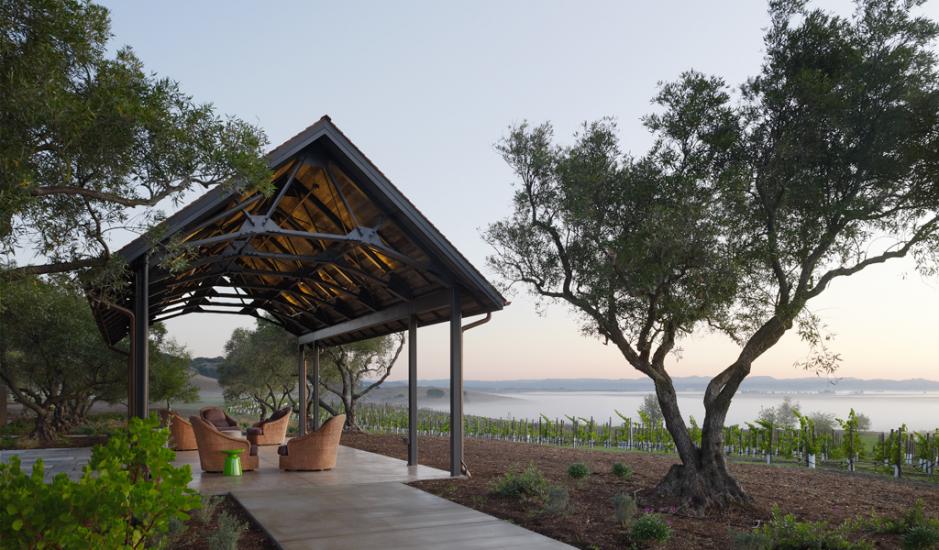 source
After we left Rams Gate we headed to Sonoma to one of my favorite haunts, Sonoma Country Antiques. They always have something interesting and their displays are always so creatively contrived.
I love, love, loved their take on using this turkish rug as a bedspread


I am so tempted to try this


Another fun stop is Cornerstone but I had just stopped recently, so we headed to Saint Helena. I always like to stop in at Vintage Home and Acres right next door.
Vintage Home always has fabulous finds for the home. Their clever window display from the street.


Next door Acres has wonderful things for the garden and the most fabulous faux flowers you have ever seen.


I will report on the second half of our trip next week if all goes according to plans. I am having my second hip replacement a week from today! Yippee I can't wait. The last one was a piece of cake so I am hoping for more of the same this time around!!