I admit it I am a lazy holiday decorator. If I decorate my mantle for fall (I didn't this year) I use a base of twigs with lights. I add leaves and season specific fruits that can easily be exchanged for pomegranates and greens for Christmas. If I purchase a wreath I try to purchase something that can be used for Fall and then with a few additions or subtractions be converted to a Christmas wreath
.
This
Antler Wreath
in it's simplicity is a perfect example. It is seasonless.
This Eucalyptus based wreath can be enjoyed fall through Christmas by exchanging seasonal fruit.
This gorgeous clamshell wreath from Martha Stewart could be adorned with a beautiful orange bow for fall, then changed to red for Christmas.
The same treatment could be applied to this beautiful wreath of hydrangeas.
I have been meaning to construct a twig wreath like this for our lake house. We have all the materials readily available.
This bay leaf wreath from Terrain could be enjoyed fall through winter
This moss wreath adorning my front door will probably only get a festive ribbon for Christmas. Better yet it can be stored away until next year!
Swap out this brown ribbon on this cotton wreath for Christmas.
I have purchased variations of this wreath from Pacific Evergreen at the Flower Mart in San Francisco many times. Add a bow and remove the brown leaves and this one will be Christmas ready.

This woodland inspired wreath from Terrain is non season specific.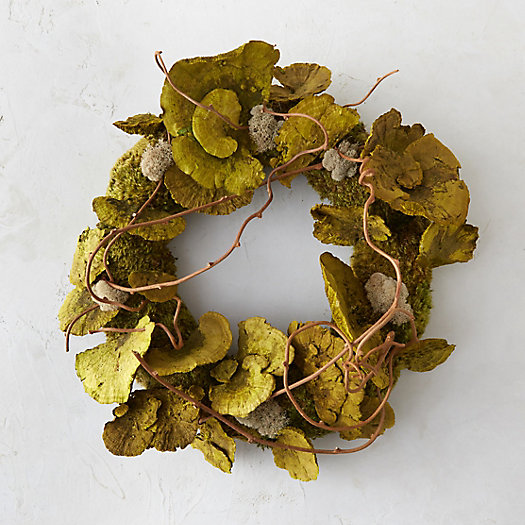 I am anxious to hear if any of you feel the same was as I. The older I get the more I appreciate holiday décor that can transition from one holiday to the next. How about you?