I love the pointed toe ankle tie flats that are so popular this year. Unfortunately, foot issues force me to search for a pair that maybe aren't quite as hip-looking but will suffice.  I am thinking the gentle soul bay unique  might work and I know they will be comfortable!
Espadrilles seem to be big this year and come in every price range.  I personally can't see paying much over $100 for a pair.  If my memory serves me well they don't last much more than a season.  Which would you choose?
These calfhair espadrilles from Soludos  are really fun
Maybe the Lucky Tikko or the smoking espadrille (also from soludos)  are more practical?
I need a stylish ballet flat that will accomodate my foot issues and will stand up to shopping and a lot of walking.  My current pair of Gentle Souls are ready for the trashcan.  I think this dana flat from Gentle Souls  might be the one
Love this anthropologie tunic I could see it with a crisp white blouse underneath as well.
Eileen Fisher always knows how to flatter the over 50 figure.  I Love this scoop neck tunic is fitted through the bust then flared.Note the length of the sleeves, no bingo arms!!
Gray hair and white blouses go hand in hand.  Love this cinched waist one from Anthropologie!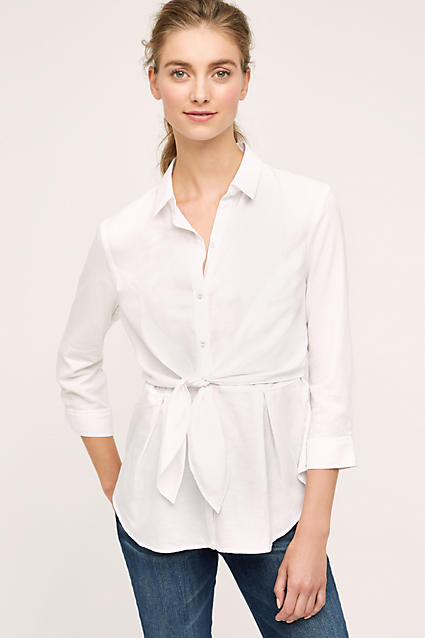 Do you read A Well Styled Life? If not you should check it out. Jennifer sings the praises of this Asymmetrical number from Carol Turner for Artful Home.
Can't ever have too much chambray or denim, right? I have been on the lookout for a nice crisp chambray tunic.  Have you spotted one you like? What about this one from Ralph Lauren or the easy linen tunic from Garnet Hill ?
This is actually considered a dress from Madewell but at my age I would only wear it as a tunic!
Okay I love Madewell but how on earth did this become fashionable? Can you think of anyone that this would flatter? ls it me or does it look like a prison uniform?  It doesn't even look pretty on this model.  Let's not be slaves to fashion ladies!! Who reading this would buy this for themselves or even their fashionable daughters?
What are you adding to your wardrobe this Spring? I would love to hear about your finds.
Don't forget on Monday Mary Ann of Classic Casual Home and I will be back with our Spring Project Design Series "How to Style a Spring Mantle Two Ways".  We have a fabulous group of bloggers so you won't want to miss it.  Follow us on Instagram, Pinterest, and Facebook for sneak peeks!!