If there is anyone out there that has not heard of the One Room Challenge created by Linda from Calling it Home http://www.callingithome.com/2014/11/one-room-challenge-fall-2014-finale.html. If not I would suggest you spend the weekend perusing all of the wonderful talent she has enlisted. Linda has a group of bloggers and designers selected by her that do over one room in six weeks. She also opens it up to other bloggers who would like to link up on Wednesdays during the challenge. I was a linker last year you can see my room here….The great thing about the ORC is it forces one to have a deadline. You have heard "the cobblers son goes without shoes". Well we designers can sometimes put off projects in our own homes. Linda has come up with this incredible formula that is pure fun to indulge in. I have been swamped with work but I couldn't help but take a peek at the dynamic group Linda once again assembled.
Her are some of my personal favorites. I do not know design daredevil but I have to tell you when I saw the room she did I want her for my new best friend!! I haven't read her blog but I am going to start http://thedesigndaredevil.com/2014/11/week-6-one-room-challenge-the-reveal/ Is this fabulous or what?
Kris from Driven by Decor http://www.drivenbydecor.com/ is one of the most clever, talented , and sweetest bloggers I know. Check out the bathroom redo she did. By the way folks that isn't wallpaper it is a stencil!! I have done stenciling but when she told me she was attempting this…quite frankly I thought she had gone mad…nope…look at the results!!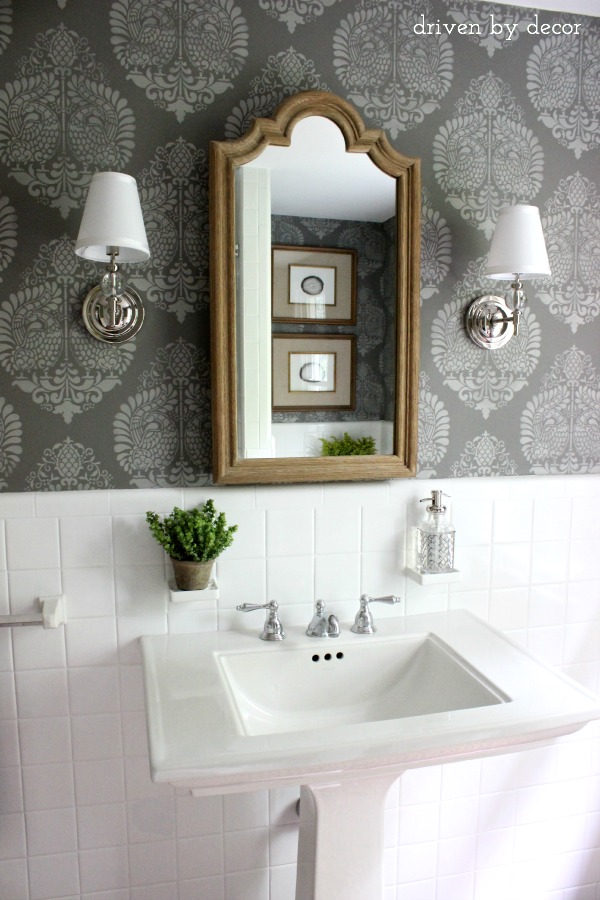 Sherry Hart from Design Indulgence http://designindulgence.blogspot.com/ didn't just do a room (overachiever!!) she did an entire living space for a client. I love Sherry's style and she never ceases to amaze me with her talent! And…if you haven't read her blog she is hilarious!! Sherry's blog posts could be a Saturday Night Live Skit for Decoristas!!
Another new blogger I have discovered thanks to Linda is the Decorista http://www.thedecorista.com/blog/2014/11/5/one-room-challenge-final-reveal. Check out the chic space she designed for her assistant.
Another of my blogging friends whose blog is relished by millions is Design Chic. Design Chic is a dynamo mother and daughter team ://www.mydesignchic.com/2014/11/one-room-challenge-reveal/#more-14546 . Is this kitchen divine or what? Would you expect anything less from these ladies?
Julie from TG Interiors http://tginteriors.blogspot.com/2014/11/orc-reveal.html did a wonderful job freshening up her family/kitchen area. She used some of my favorite fabrics and I adore her table and chairs!
Well there you have my favorites. Go to Lindas blog www.callingithome.com and check out all the entrants. You will not be disappointed.
I am so sorry about my lack of posts. Please stop in on Monday I am going to post about the Trad Home Napa Valley Showhouse. It was beyond wonderful. I am working on the Berries and Branches Holiday Home Tour this week and next Friday Fun Stuff I will post about that. Thanks for hanging in there with me. I am a working designer and sometimes that darn work just gets in the way of my blog posts! I appreciate all of you supporting me in spite of this and I so enjoy hearing your comments. You guys are the best!!!
All images are the property of the bloggers listed.