Those of you that read my blog regularly know I am a big fan of using natural elements in décor whenever possible.  There is something very welcoming about bringing the outside in. Here are some lovely organic tablescapes to get you inspired. Let's take a look at some Fall Tablescapes that are Rooted in Nature.
source
Danielle Rollins is a master at layering different patterns and textures and interspersing them with natural elements.
source
A fall centerpiece doesn't have to be made up of typical autumnal flowers.  This lovely arrangement welcomes fall in a quiet way.
One Love Photography
This one is more atypical but just as lovely.
source
Wouldn't it be fun to have Thanksgiving dinner in the greenhouse?
source
Gilded pumpkins provide a little element of surprise amongst the berries and succulents.
source
Plaid is so big this year. Isn't this a fun take from West Elm?
source
The organic ingredients of the tablescape look as if they were just gathered from the yard.
100 Layer Cake
I love the mix of the pale blue pumpkins with the bittersweet and persimmons.
source
Love the combination of the white mini pumpkins and white hydrangeas with the warm wood tray.
source
Love this one from my friend Kris from Driven by Décor. Simple vases with gorgeous fall leaves create instant impact.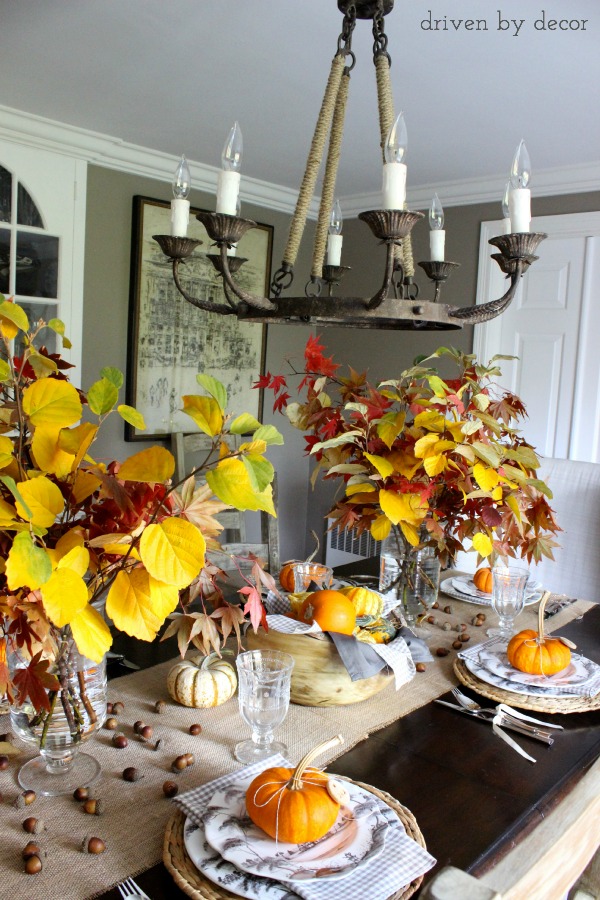 source
The last two are a couple of mine from a few years past.  This centerpiece is a simple arrangement of vintage hydrangeas and fall leaves.
source
Here I used wicker-covered bottles with olive branches gathered from my yard.
Thank you for reading Fall Tablescapes Rooted in Nature. Are you planning any fall dinner parties to celebrate the season?