Hi Everyone! Maryann (Classic Casual Home) and I got together a few weeks ago and thought it would be fun to come up with a couple of easily executed design projects a year and involve some of our favorite blogging buddies. We have found that one of the projects our clients find challenging is creating a gallery wall. I did a tutorial a while back on gallery walls here
http://roughluxeperspective.blogspot.com/2013/01/gallery-wall-tutorial.html
.
The easiest way to make a gallery wall appear unified is to pick a common theme, or use works in a similar color palette that will complement each other and the space. Let it reflect your personal sense of style and play with shapes and scale. There are no rules. Most often my clients want help displaying family photos in a stylish way. I have a couple of personal rules when displaying family photos. I think they are more appropriately displayed in family areas (ie the family room, hallways, bedrooms, offices, etc.), but it is completely a personal decision.
Choosing photos of identical scale and color in identical frames is super easy to achieve and has great impact.

katie caskey
I love the layered look of this photo gallery wall . It is a little more complicated but still very simple to execute.

apartmenttherapy.com
This arrangement would a little more of a challenge but if you check out my tips on my pinterest board here http://www.pinterest.com/chattersley/gallery-walls/, you can do it!!

restylinghomebykellyblog
A Gallery wall needn't be resigned to the obligatory family photos. If you have a large wall that you don't know what to do with why not think outside the box?

via anthropologie blog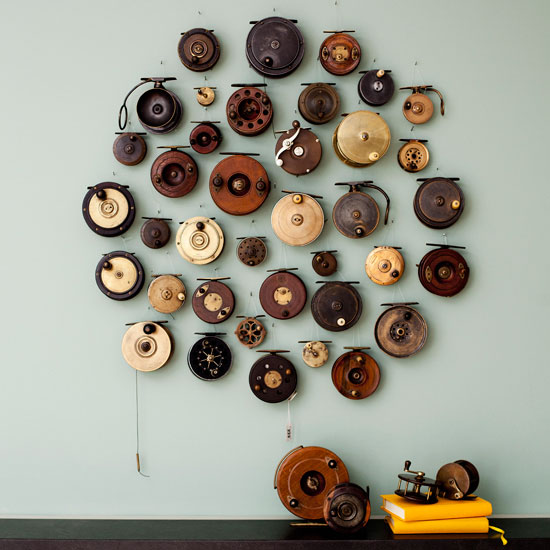 housetohome.co.uk

via things that inspire

Lauren Leiss
Do you have a wall that is calling out for a gallery style presentation? Stop by on the next three Mondays and visit these talented ladies and see what they come up with. I know you won't be dissappointed!