We have a second home in the Paso Robles Wine Country (that we also rent click on the sidebar for more information). We absolutely love the area and hope to retire there one day.
Paso Robles has managed to retain the charm and character of a small town but has become a world class wine region known for it's Rhone Blends, with a restaurant scene to complement it.
One of the latest additions, the brainchild of the Kobayashi brothers (who already own the very successful Artisan) is
Kitchenette
. The brothers wanted to be able to offer the same farm to table fare that they are noted for at a more competitive price. Hence the walk up format. The restaurant is located in the tiny town of Templeton on Main Street. I hear it has been packed every day since they opened. e were able to get in on Monday and I had the Turkey Bahn Mi. It was incredible.
via Kitchenette
Steve had the Pork Burrito, Lauren the Vietnamese salad counterpart to my sandwich. Colin had this wonderful breakfast sandwich
via kitchenette
Unfortunately we were so eager to eat I forgot to take our own pictures. The place has been packed every day since it's opening. The counter below would only look like this before opening!
via Kitchenette
In a Warehouse area south of town
Barrelhouse Brewing Company
had the genius idea of opening their flagship location in a building formerly housed by a landscape supply company. They have entertainment and food truck fare every Saturday and Sunday along with their hand crafted beers.
The day we were there
Gypsy Flame
provided the fare
We tried one of each along with some Barrelhouse Brews and they were all equally delicious!
The area surrounding Barrelhouse was once a mishmash of Commercial Warehouse Establishments. Nearly two years after Barrelhouse came in the area it is now filled with Boutique Wineries, a Distillery and soon a restaurant. This area is quickly becoming the go to spot.
via hootnannie
Aaron Jackson of
Aaron Wines
says "what makes the wineries located in Tin City different is that they are artists and winemakers who love making wines and have started from the ground up". Aaron has two labels. The Aaron label is Syrah based and sources grapes from the Westside of Paso Robles. His Aequoria label sources grapes from within six miles of the ocean to craft some wonderful Pinots. His tasting room is really cleverly done as well.
We have long been fans of Brian Benson Cellars Brian started crafting wines at his parents winery Dark Star when he was only 21. He has gone on to make some of Paso's best and happens to be a great guy. Brian was just getting settled but gave us a wonderful tour of his facility while we were there.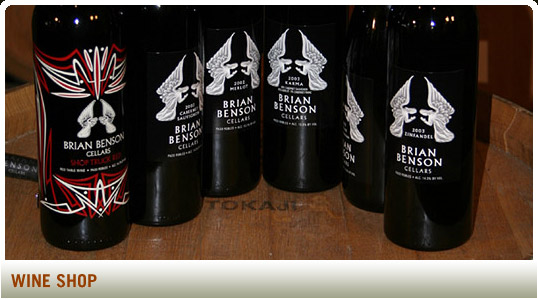 I will do another post on Tin City when we give some of the other places a try. Jacob Toft (formerly of La Aventure) makes great wine and Giornata ,Field Recordings (they are bottling wine in cans) and Onyx have all been recommended.
If you are interested in Paso Wine and Food a great blog to follow is HootnAnnie. I have a list that I send to our renters that I would also be happy to share with you, just email me if you are interested.
I apologize for my lack of posting. My life has been crazy to say the least. I am planning to get back to posting on a more regular basis. I would love to hear from you. Ironically I have had a lot of interest in my fashion for women over fifty posts but I don't want to overdo it. Please take a minute and take the poll below!