Chalkboard Anything & Everything…Stay or Go? I still think this can be clever in a commercial setting such as this below. But, have we overdone it on the homefront?

source
Sheepskin and Faux Sheepskin Throws …Stay or Go? I thought these were "cute" in the beginning but havn't they been draped, hung, and thrown on every surface known to man? Or do you still love them?
Cutesy Signs…Stay or Go? Our electric panel is in our laundry room in a very conspicuous spot. I have seriously considered one of these signs because I do not know what else to do with it, but I am getting a little weary of them, you?

source
Lucite Furniture…Stay or Go? I liked a simple ghost chair but obviously a room full of lucite is not my thing. How about you? What do you think?

source
Garden Stools…Stay or Go? Hate me if you want but I NEVER got on board with this one. Wisteria at one time had one that I liked. Never got it…still don't get it.
Barn Doors..Stay or Go? I may really hear from you on this one. I still like them in certain settings where they look like they belong… but really everywhere… What do you think?
Heavy faux finished walls and cabinets. Yep I had them in a lovely shade of bronze.

source
Galvanized Anything and Everything?

source
Midcentury Mania? Do you still love it or would you like to see a piece or two mixed in with some from another century?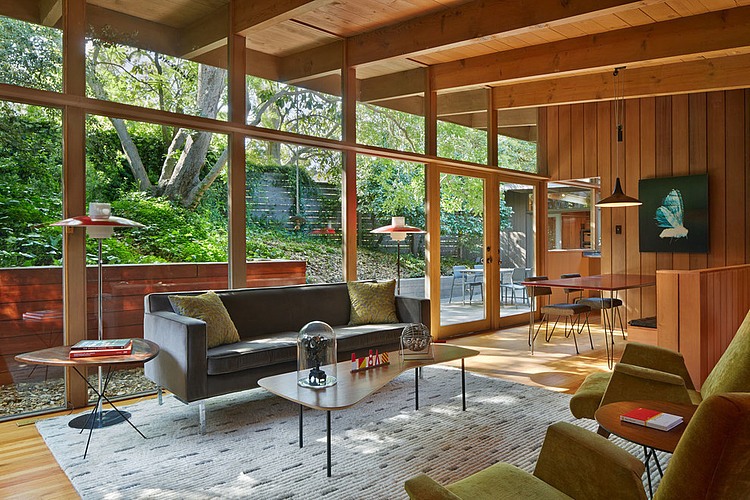 source
Sheepskin Rugs? Overused or do you still feel the love? I still have one in one of my guest bedrooms. I am thinking it is time for it to go.

source
Which of these do you think need to hit the high road? Do you have any trends that you are REALLY tired of that you would like to add to the list?