Those of you that have followed my blog for awhile know that my husband and son are contractors and we have taken on a new challenge flipping houses. You can read about the evolution of the last one here https://cindyhattersleydesign.com/2012/08/we-bought-little-cottage.html.
This new project has it's own set of challenges. The first hurdle to tackle is it's curb appeal!

The biggest issue is this" big ole" blank wall. I would love your input. Of course shutters are an option but the interior is going to have a more transitional/contemporary vibe, so I would like to keep the lines as clean as possible.
I have considered some sort of sliding barn shuttered "contraption" perhaps like this
Barbara Colvin
remodelista
or this…
remodelista
I know what you are thinking…it is not a barn…that is what my partner thinks as well…
There is always the option of a shaped window like this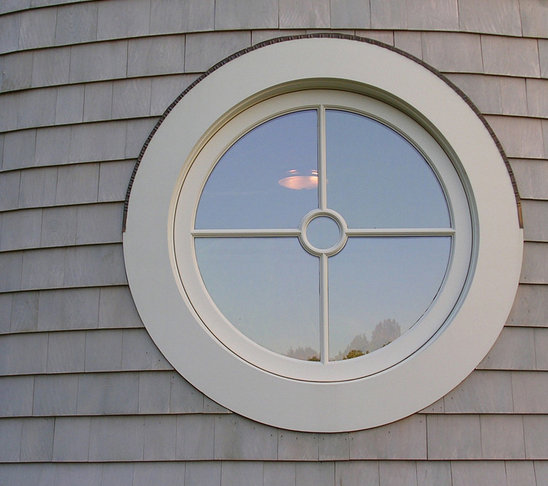 I did consult my architect/friend. He had a great idea I am just not sure if it is in the budget!
We plan to get rid of or minimize the concrete…enlarge the landscape beds close to the house.
I want to whitewash the brick so it will look something like this.
I know…I know there are some of you that will say don't do it, but this I feel strongly about. Holly over at Things That Inspire did an interesting post on Whitewashed brick here http://www.thingsthatinspire.net/2010/03/painted-brick-houses.html. I am loving the color pallet on the left
This house http://www.dijeaupoage.com/projects/byprojects/presidioheights.html in my daughter's old neighborhood has a color palette that really appeals to me (sans the black).
As does this one from the master Michael Smith…note the painted brick…imagine what it would look like unpainted….dated…
I am thinking all the wood and trim should be the same color perhaps Farrow and Ball Hardwick White (like above)
or…Benjamin Moore Manchester Tan…
I don't hate the front door so it may stay. We might wire brush it for texture and give it a driftwood wash? ….or maybe not? I would love to hear your suggestions. Remember the budget is limited as it will be sold. I know how talented you all are!. If you want to see more of the inspiration for this project go here http://pinterest.com/chattersley/np/. I can't wait to hear what you all come up with!