I don't know about you but the older I get the better I like white.  I don't think there is anything more flattering on a woman over 50 than a crisp white shirt.  Here are a few of my favorites!The Kaylynn Tunic from the Finley Shirt is a great option for work.
Button Down Tunic, Finley Shirts, Kaylynn Tunic Solid White
I have this Comfy USA tunic in Polka Dot. linen and white and love the flattering fit. The fabric is also packable so it comes out of your suitcase just like this!

http://www.artfulhome.com/product/Woven-Shirt/Tokyo-Solid-Shirt/91685
Love the way this one from Planet covers the bum

http://www.artfulhome.com/product/Cotton-Woven-Shirt/Peplum-Shirt/70939
I like this one from one of my favorite brands Comfy USA but I find that on me one that is not fitted at the waist is not very flattering.  My sister looks great in this style.
Lafayette 148's shirts are always top notch if you are willing to pay a little more.
The J Crew Endless Shirt is a great casual favorite.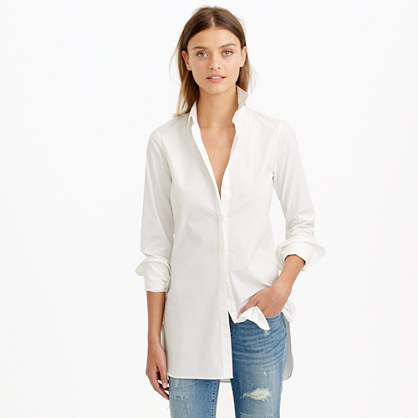 What to wear with your favorite white tunic? If I were wearing the J Crew tunic above here is what I would pair with it
If I were looking for a better work option I would do this…
Do you have a favorite white shirt or tunic?  Please share if you do!