I was never a fan of the voluptuous table skirts of the past bearing heavy bullion fringe. They never seemed very sophisticated but rather a fill in for a nicer piece of furniture. I am on board with the more current tailored look; that can blend with almost any style. An old piece of furniture can be upgraded with a pretty fabric and or a pretty trim. They can be covered in an indoor outdoor fabric for ease of care.I currently have a client that wants to keep her skirted table. Here are some great examples that don't shout granny.

source
I love the simplicity of this simple tailored linen version.


Mark Sikes really knows how to work them. I love this one in the living room of his own home. It brings an earthiness to the all white room.

source
He keeps them simple and elegant so they don't over power.


source
Love the pop of red here


source
Another "hidden" advantage is the ability to store things underneath. Great in an apartment where there is limited storage.


source
Another example of a heavy linen adding earthiness to a white space.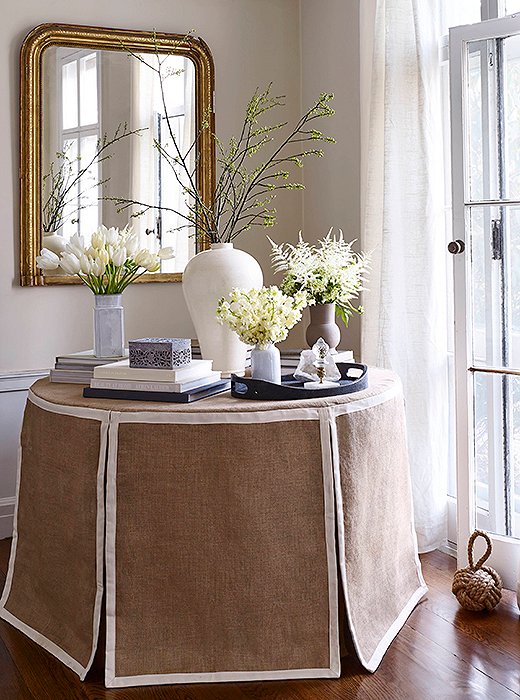 Here is another version of this with the tape treatment omitted at top. I kind of like this.


source
This one adds softness to a room with a lot of legs.

source
Skirted tables are great in an entry where they can create the illusion of mass.

source
LOVE what Mary Douglas Drysdale did here. A skirted table can work in a more contemporary space as long as you keep it simple.


source
Simple and Beautiful


source
Simple linen skirt, a great way to hide ugly bar essentials. You can find one like this on Etsy here


source
This great skirt could hide an ugly (but practical) folding table. I have a couple of round ones. A long one with a skirt like this is very tempting. I love the lacing detail.


source
An interesting fabric makes a statement in an otherwise patternless entry.


source
If you would like to order a 33"round folding table go here. If you would like to order a 48" folding round table go here. If you would like to order a console table go here. If you aren't a seamstress Kirtam Designs on Etsy can make almost any of the above designs. To check out their Etsy shop go here.
For more inspirational tableskirts, check out my pinteres board here What do you think about skirted tables? Would you use one in your home?